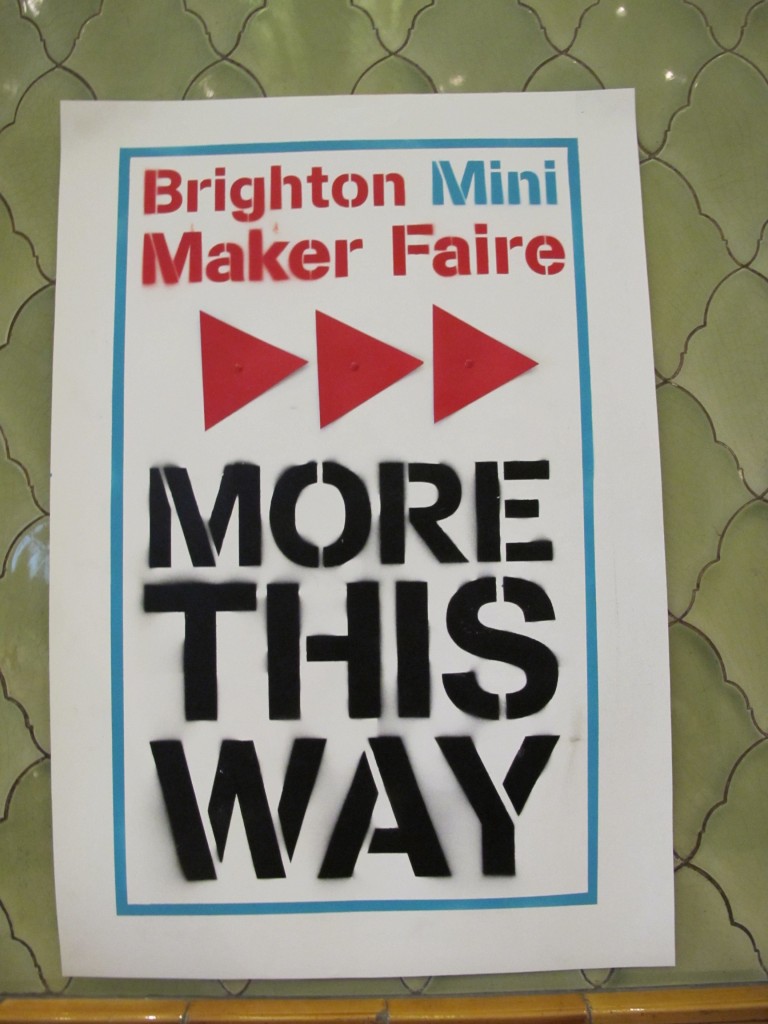 Image courtesy of Rain Ashford
Saturday 3rd September was the first ever Brighton Mini Maker Faire at the Brighton Dome, and what a roaring success it was! With something over 5,000 people in attendance, we were run off our feet – the organisers should be extremely proud of themselves. We certainly had a fantastic time, and hope to be back next year.
We had set up on the night before, but we still arrived early after stopping off for a delicious fry up because there were a few last minute things to do. When we decided to venture into running Build Camps, it seemed like a prudent idea to actually build a Prusa so we took motors and the Gen7 electronics off the Huxley. Prusa was all assembled and ready to start printing go, except for a problem with the thermistor pin setting in the Prusa firmware that I needed to look at, and I wanted to print out a spool holder on Mendel before the doors opened.
Image courtesy of Rain Ashford
Of course, like all best laid schemes, that went straight out the window! From the moment I sat down to set the spool printing we were being asked questions from other Makers. That 5 minutes to fix the firmware issue on Prusa remained elusive for the entire day, so sadly we never got it printing. But Mendel was as reliable as ever, churning out freebies to give away with business cards and items from our collaboration….
As soon as we found out we got a stand at Brighton I was excited to see who else was in the line up, and managed to strike up an exciting collaboration with the guys at Moving Brands with their Hand:Drawn project, which entails using a hacked Kinect to design 3D objects, more specifically letters and punctuation, with gestures.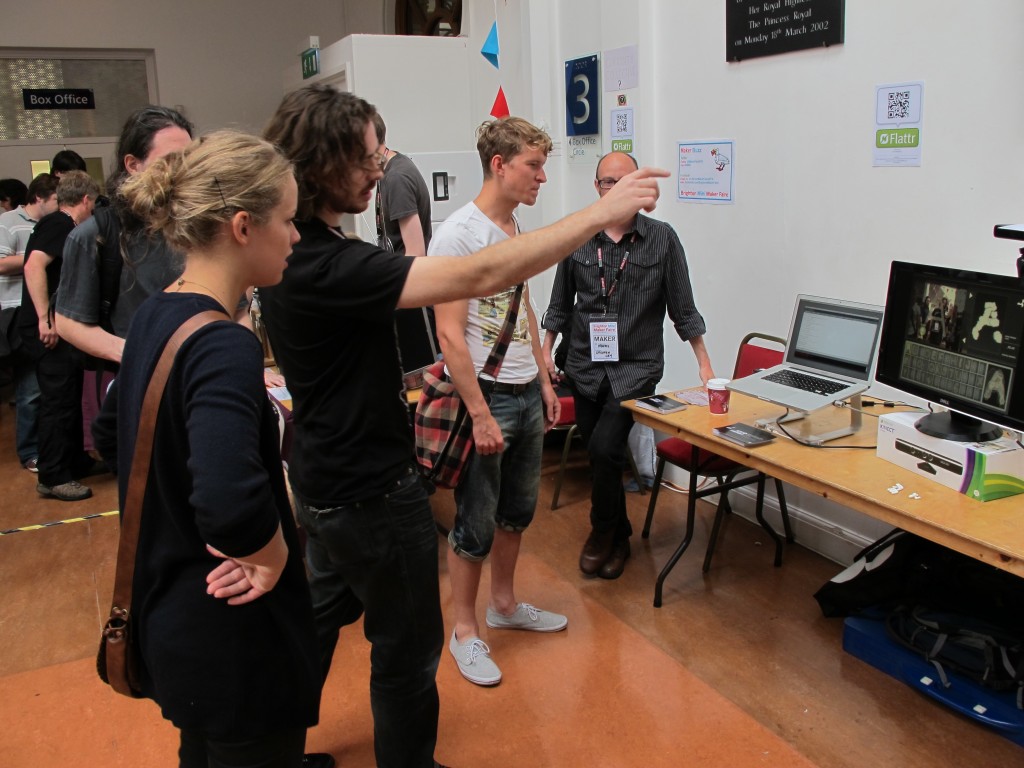 Image courtesy of Andrew Sleigh
We had imagined an experience where a visitor would go to the Hand:Drawn stand, draw their 3D letter and come next door to our stand where we would print it out for them to take away. Our dry run before the day worked great: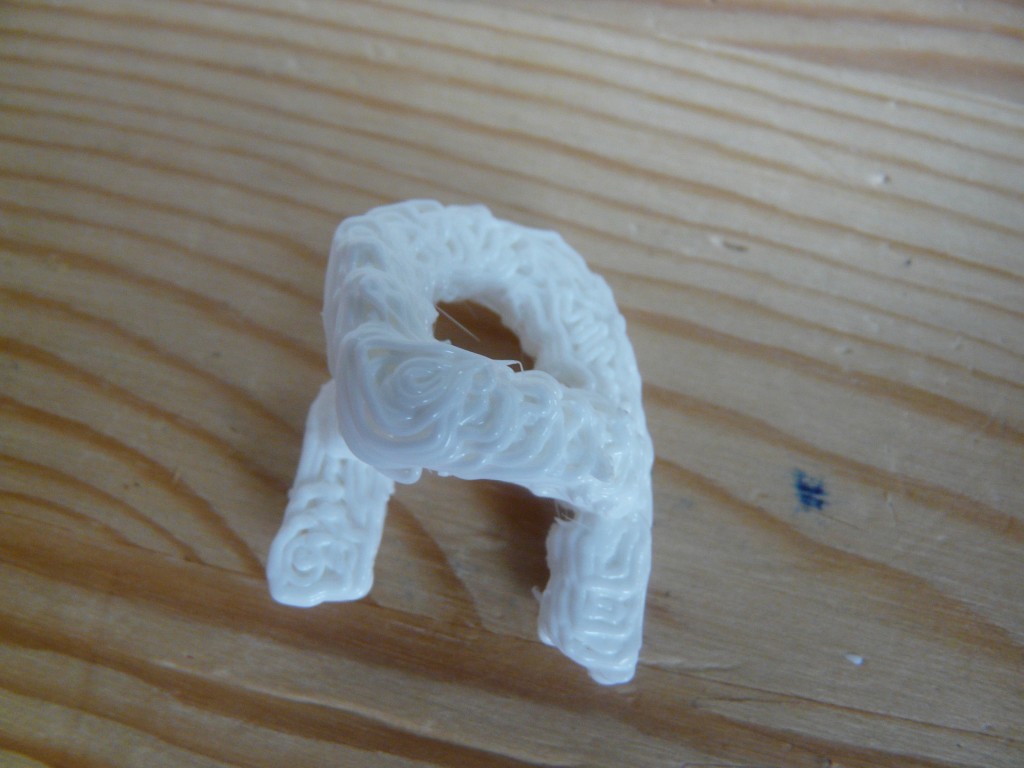 Unfortunately because it was so busy and both stands had crowds several deep around at all times our integration wasn't up to the task. As a result a lot of people didn't get their letters printed off, although those who did were really pleased – a lot of kids in particular.
Image courtesy of Andrew Sleigh
Image courtesy of dogsbodyorg
We spoke to huge numbers of people throughout the day and gave away hundreds of business cards. It was a bit of a family affair with both Mum and sister Charlotte coming along mainly to enjoy the sun on the beach, but also they helped out a lot, as did Mike Beardmore, who we met along our 3D printing tour and has now become a good friend and valuable team member! We made a deal to trade a cast of one of our printed items for a set of Prusa printed parts, a lady into Steampunk relieved us of an Octopus to turn into a broach, many people in various stages of building their own 3D printers chatted with us about problems and asked for recommendations, a lady passionate about recycling wants to turn two of our business card freebies into earrings, a guy whose family business is injection moulding was looking to the future, we swapped cards with a local artist interested in our plans to print pottery and had many other fascinating and inspiring conversations providing plenty of ideas for projects to sink our teeth into. Not to mention the interest in our Build Camp was overwhelming – so much so that we're looking to join forces with the Brighton Hackspace who helped organise the Maker Faire and get events running in both Reading and Brighton.
http://www.flickr.com/photos/natalia_buckley/6112446964/

Image courtesy of Natalia Buckley
http://www.flickr.com/photos/natalia_buckley/6112440756/

Image courtesy of Natalia Buckley
One of the highlights of my day came right at the end as we were stood with our RepRaps lined up on the pavement outside the Dome by the loading bay, waiting for Dad to bring the car around. A man came out of the dome with his young son and daughter and his son spotted us as they walked past. Turning around to his dad he said "I think they are 3D printers!", and before his dad could get out any more than "Oh really?" his sister chimed in with "Oh yeah, 3D printers are really cool! You can print all kinds of things off on them…"
The amount of interest and enthusiasm shown for RepRaps and 3D printing was rewarding and invigorating, but sadly it meant that we didn't have a chance to go see any of the rest of the Faire, or take any pictures. We were a few feet from the bar and I never managed to even make it there for a drink – thankfully the crew were coming around topping us up with water! Luckily the community has come to the rescue and there is loads of coverage of the Faire both on the official website and on lanyrd. Huge thank you to everyone who has given me permission to include their photos here – you're absolute stars!
So hopefully lots of exciting new things to come from our grand day out, as well as working on things already in pipeline!