Whilst browsing Pinterest at Christmas I stumbled upon the following video playlist by KnitPicks, and I've been lusting after a loom ever since. It seems like a great solution to the problem of my burgeoning stash!
I was also lucky to receive a couple of Craftsy classes as Christmas gifts and the Rigid Heddle Weaving class by Angela Tong was perfect for my first foray into the Craftsy world. The class is brilliant with clear instructions and at a good pace. I wasn't sure about the online video format for craft classes as I have tried MOOCs before but the quality of the content, the lifetime access and ability to add bookmarks and notes to the video as well as rewind and revisit sections make it fun to use and great value for money.
The Kromski Harp Rigid Heddle Loom is used in both the Youtube playlist and Craftsy class and has some nifty features to recommend it. It folds for storage with the warp in place, and includes pegs to create a warping board on the reverse of the loom.
The Kromski Harp seems an elusive beast in the UK, but I did find it available from Wingham Wool Work in a range of widths along with accessories such as carry bags, floor stands and extra heddles in various dents.
I also enrolled in the Floor Loom Weaving class with Janet Dawson, figuring it might provide a different perspective to weaving on a rigid heddle loom and would either sell me on more advanced weaving or put me off entirely.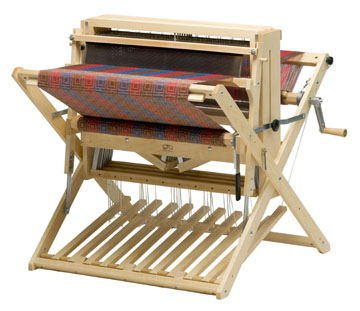 It is a whole new world of complexity with yet more unfamiliar terminology, but the project possibilities are stunning and endless. Daunting, but I was not put off. That is, until I saw the price of floor looms – ten times more expensive than the rigid heddle looms! A significant investment for someone new to the craft and not sure how they will get on.
Then, also on Pinterest, I stumbled across the PVC Loom building guide by Dave Hollyand ordered myself a copy. Build my own loom, learn to weave and save money – brilliant!
The instructions are comprehensive and step-by-step. The only problem is that the plans call for Schedule 40 PVC pipe which isn't readily/cheaply available here in the UK. If I want to build the loom I will have to convert to a UK PVC pipe standard. Do-able, but it might be a while before I can get around to it.
And to add another thing to the mix, there's always the possibility of making a 3D printed and/or laser cut rigid heddle loom. A couple of interesting designs are available on thingiverse:
So at the moment I'm biding my time whilst I make a decision on which route to take. Dip my toes in with rigid heddle weaving or dive straight in with table or floor looms? Buy a loom or make it myself?
Meanwhile the stash keeps growing…