Wanting to give something homemade for Christmas this year and being inspired by items on Pinterest such as these Cowgirl Cookies, I decided to gift brownies in a jar to my friends. After all, chocolate cures all ills!
I found a suitable recipe at allrecipes.com, making adjustments as recommended in the comments to arrive at the following:
Recipe
1 1/4 cups plain flour
1 tsp baking powder
1 tsp salt
2/3 cup cocoa powder
2 cups white sugar
1 cup chocolate chips/chunks in white, milk and dark
1 cup butter, melted (or more conveniently for us Brits, melt one 250g stick of butter)
3 eggs
1 tsp vanilla essence
Preheat oven to 175oC.
Grease and flour a 9×13″ baking tray.
Mix ingredients in large bowl.
Spread mixture evenly in tray and bake for 25-30 minutes.
Allow to cool in tray before cutting into squares.
Making the gift jars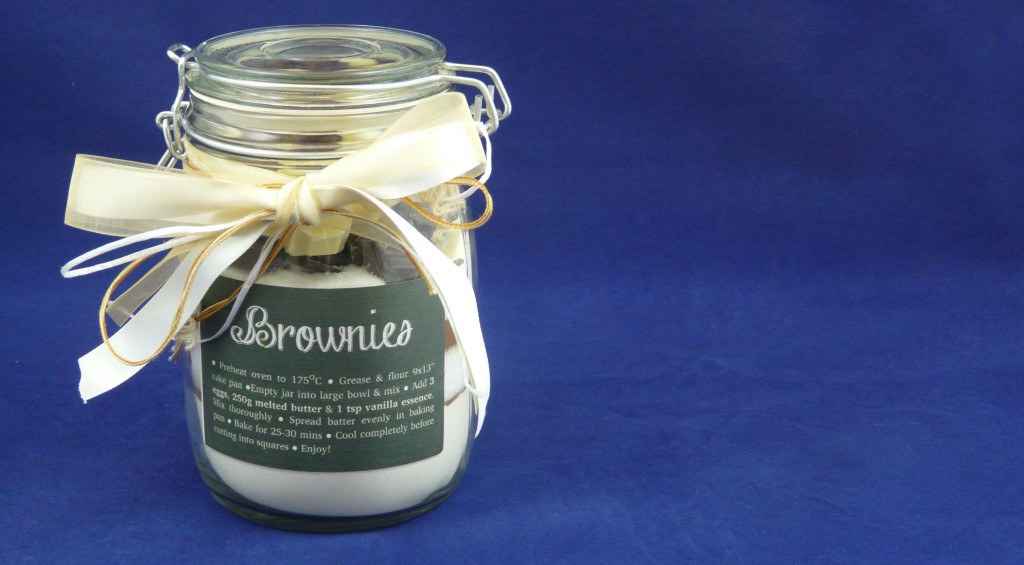 To make the gift jars, layer the dry ingredients in a 1 litre glass jar in the following order:
Plain flour + baking powder + salt
1/3 cup cocoa powder
1 cup sugar
1/3 cup cocoa powder
1 cup sugar
Chocolate chunks
Tip: Press down each layer with your knuckles, and wipe the inside of the jar between each layer (especially after cocoa layers) to prevent layer colours mixing.
Make an instructions label to stick on the jar, decorate with ribbons and gift away. Just try not to keep too many jars for yourself!